---
Message of the new Editor-in-Chief
With great excitement I am very happy to serve as Editor in Chief for Cellular Physiology and Biochemistry, a leading journal disseminating scientific knowledge on cellular, molecular and biomedical functions and dysfunctions since 28 years. I am looking forward to serve the community with scientifically outstanding manuscripts reporting novel discoveries in this fundamental area of medical research. We welcome authors from all parts of the world to consider the journal as the prime platform of their experimental data and scientific communications. With careful, fast and fair peer review we shall secure highest scientific standards of published papers.
Erich Gulbins
---
Please note that at present Clarivate does not list the journal in web of science with the result that they will not publish an impact factor in 2019.
The current impact factor is 5.5.
---
Overview recent issues: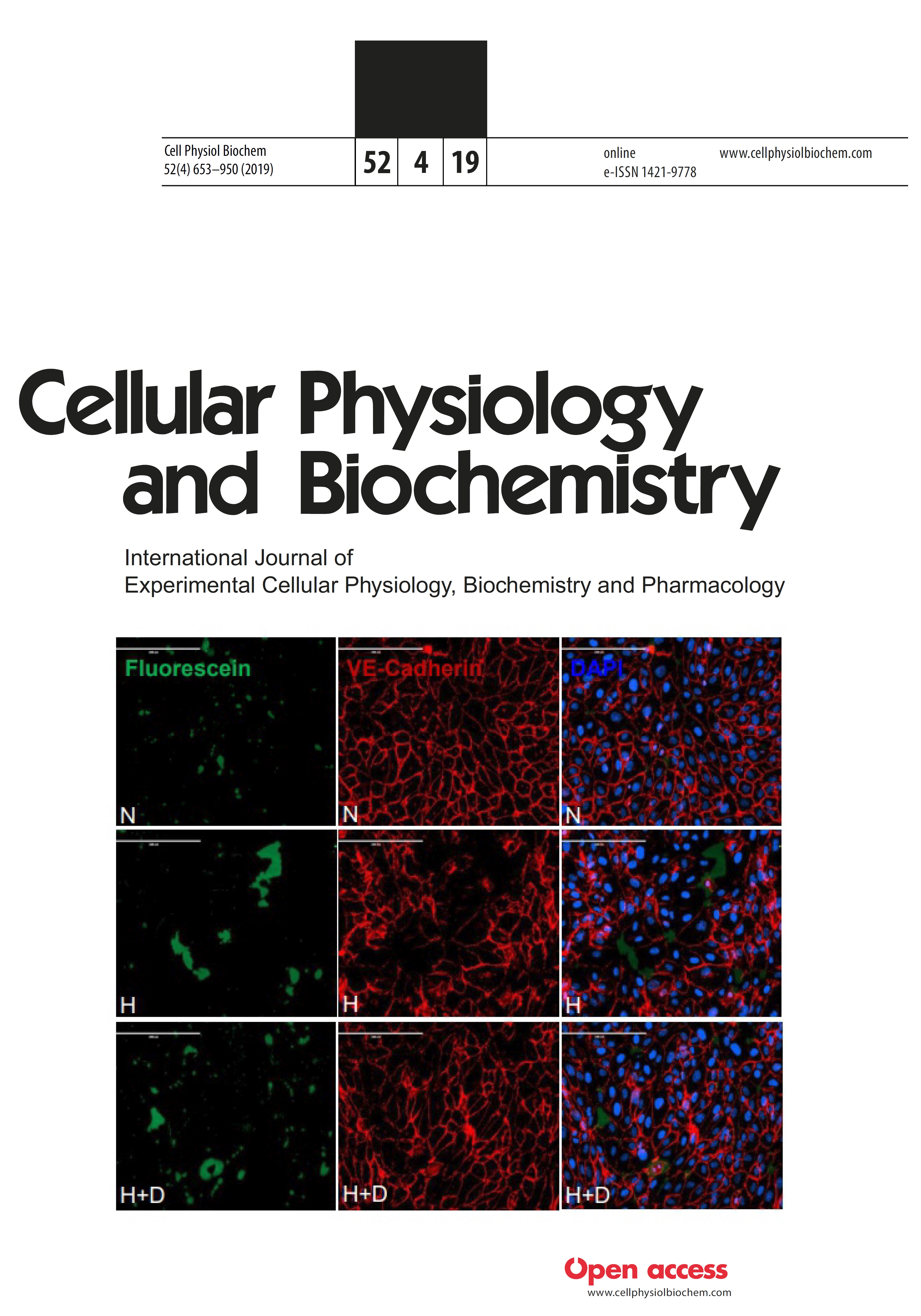 From Figure 2: Conditioned media from MIO-M1 cells exposed to 1% O2 hypoxia 48 hours (H) stimulated HRMECs tube formation compared to 20% O2 normoxic condition (N) (n=12 per group). The total length of tubes decreased by pretreatment with digoxin (H+D).
Ou K. et al. Cell Physiol Biochem 2019;52;668-680
Issue in Progress: Issue 6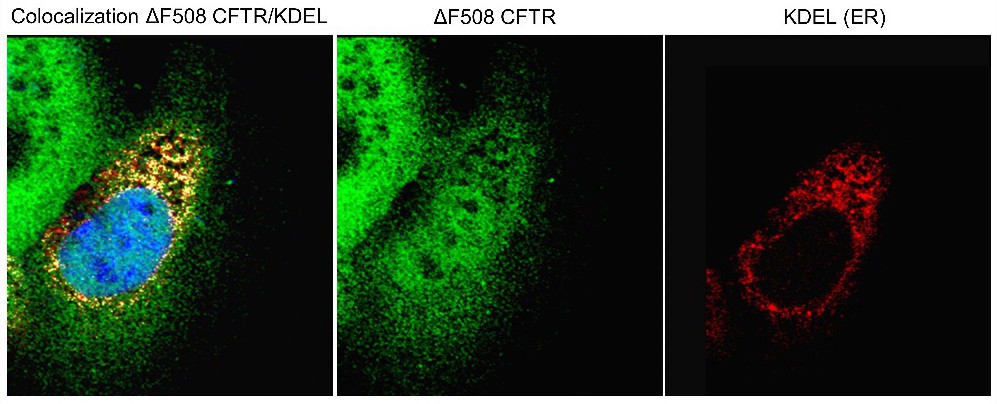 From Figure 1: F508-del co-localizes with the ER marker KDEL.
Bergbower E. et al. Cell Physiol Biochem 2019;52;1267-1279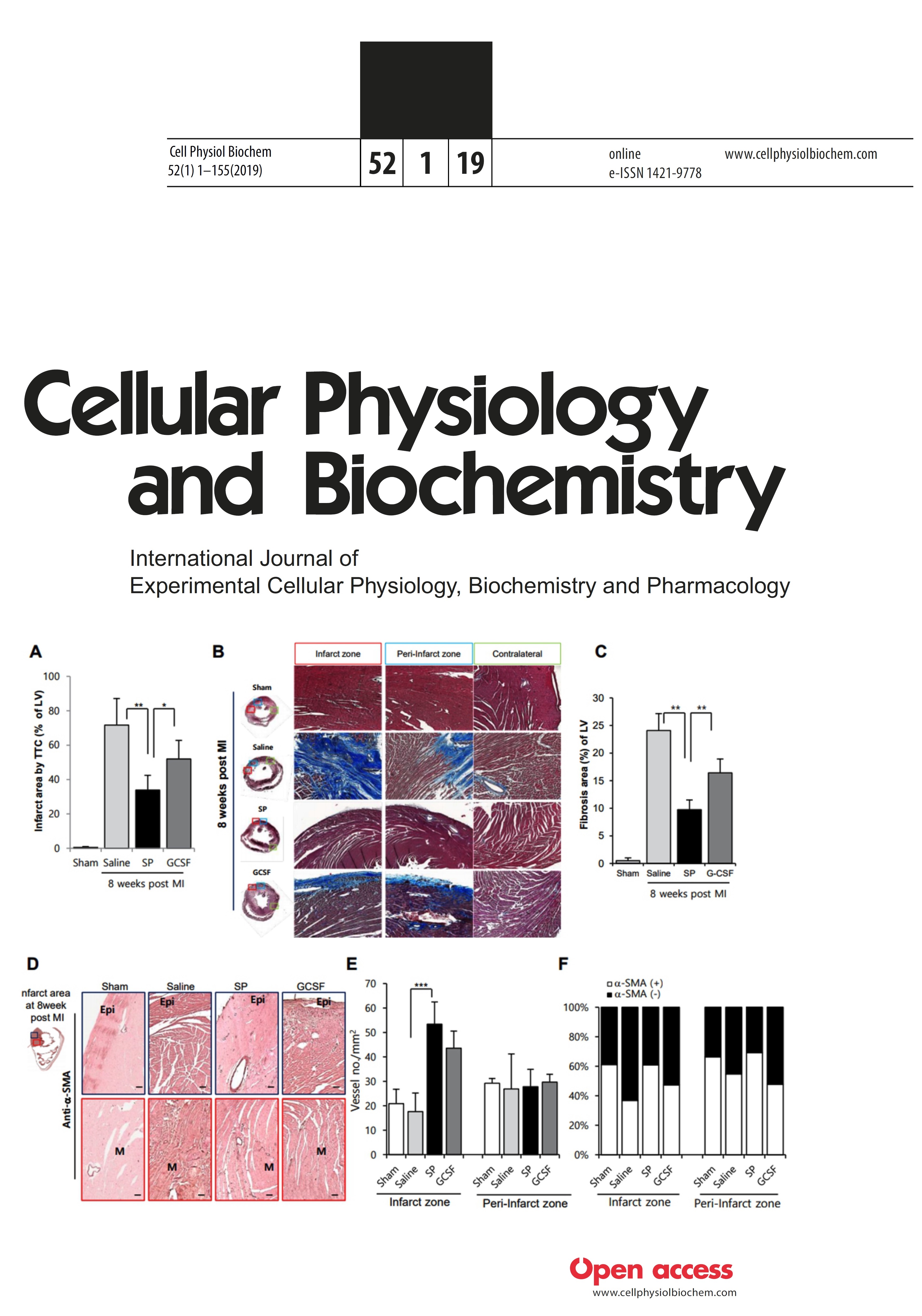 Substance P (SP) treatments markedly improved cardiac function by reducing the infarct size and fibrosis
after permanent ligation of the left anterior descending (LAD) artery.
Hong H.S. et al. Cell Physiol Biochem 2019;52;40-56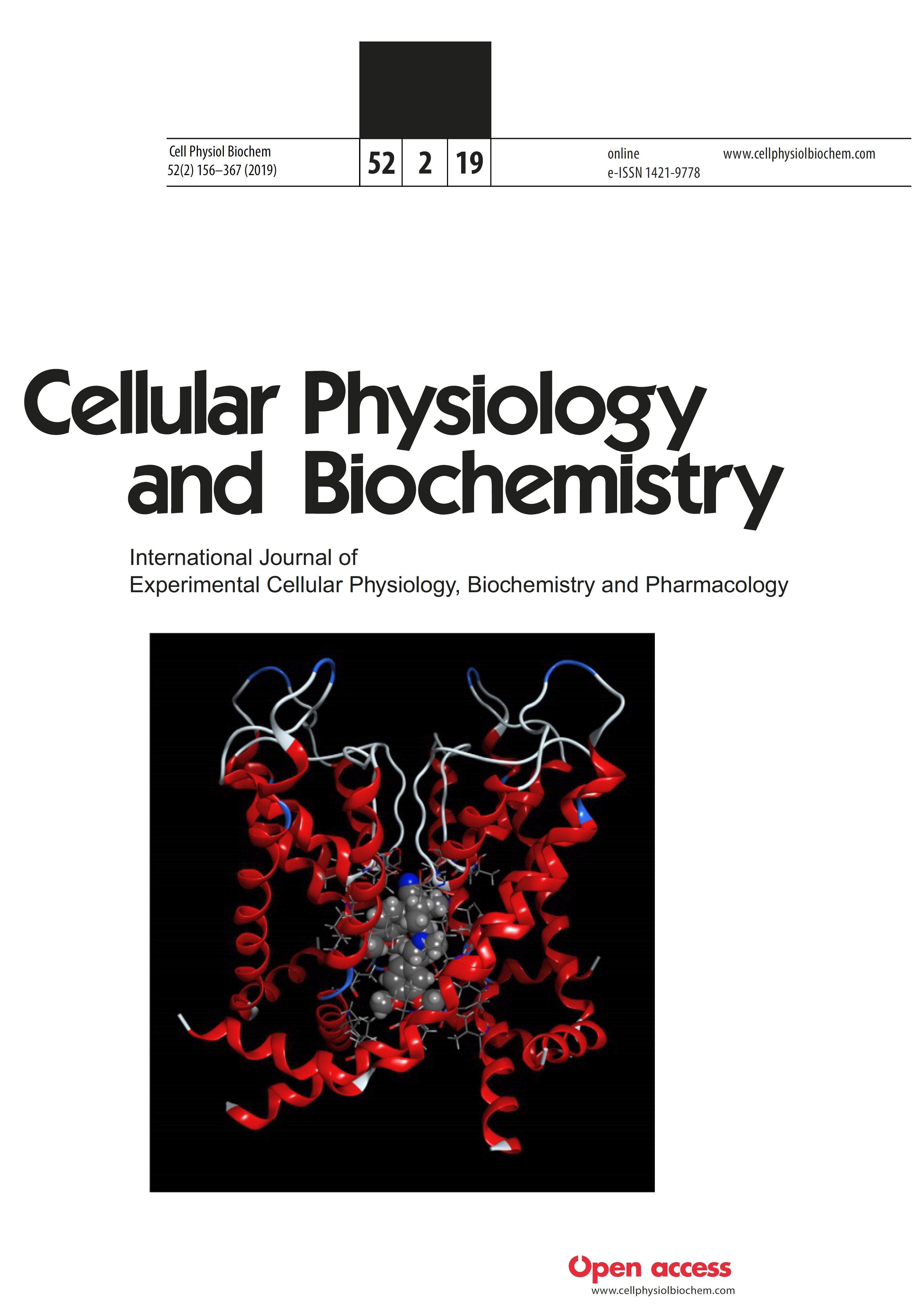 The side view of the hKv1.5 channel pore region with verapamil binding at the lowest free energy of binding.
Ding W.G. et al. Cell Physiol Biochem 2019;52;302-314
---
Scope & Aims
Cellular Physiology and Biochemistry is a multidisciplinary scientific forum dedicated to advancing the frontiers of basic cellular research. It addresses scientists from both the physiological and biochemical disciplines as well as related fields such as genetics, molecular biology, pathophysiology, pathobiochemistry and cellular toxicology & pharmacology. Original papers and reviews on the mechanisms of intracellular transmission, cellular metabolism, cell growth, differentiation and death, ion channels and carriers, and the maintenance, regulation and disturbances of cell volume are presented. Appearing monthly under peer review, Cellular Physiology and Biochemistry takes an active role in the concerted international effort to unravel the mechanisms of cellular function.
Bibliographic Details
Cellular Physiology and Biochemistry
Journal Abbreviation: Cell Physiol Biochem
ISSN: 1015-8987 (Print)
e-ISSN: 1421-9778 (Online)
Cell Physiol Biochem publishes at least 6 issues per year.
Indexing
Pubmed | US National Library of Medicine
MEDLINE | US National Library of Medicine
Scopus | Elsevier
Embase | Elsevier
Pathway Studio | Elsevier
CABS | Elsevier
Academic Search | EBSCO
STM Source | EBSCO
Food Science and Technology Abstracts | EBSCO
WorldCat | OCLC
Google Scholar | Google
Chemical Abstracts Service | American Chemical Society
DOAJ | Directory of Open Access Journals
Web of Science | Clarivate Analytics (until Volume 51/2018)
Science Citation Index | Clarivate Analytics (until Volume 51/2018)
Science Citation Index Expanded | Clarivate Analytics (until Volume 51/2018)
Current Contents - Life Sciences | Clarivate Analytics (until Volume 51/2018)