Materials and Methods
AAV viral vectors
Tyrosine-mutant Y733F-AAV8, obtained by site-directed mutation resulting in surface-exposed tyrosine (Y) exchanged by residues of phenylalanine (F) [15], was used in this study. Wild-type AAV2 and Y733F-AAV8 containing the gene for GFP were used in ex vivo sputum multiple particle tracking (MPT) to evaluate the vectors' ability to penetrate through the mucus barrier [24]. Y733F-AAV8, carrying either GFP or human PEDF, was used for in vivo studies. The expression of GFP and PEDF is driven by the strong small chicken β-actin promoter. All AAV vectors were provided by a former collaborator of the Retinal Gene Therapy Lab at University of Florida: Dr Hilda Petrs-Silva, Laboratory of Gene Therapy and Viral Vectors, Carlos Chagas Filho Biophysics Institute (IBCCF) of the Federal University of Rio de Janeiro (UFRJ).
Cystic fibrosis sputum sample collection
Cystic fibrosis (CF) sputum samples were collected with written informed consent in accordance with the Johns Hopkins Institutional Review Board (IRB) (NA_00046768). Spontaneously expectorated sputum samples were collected from patients visiting the Adult Cystic Fibrosis Center at Johns Hopkins University. MPT experiments were conducted using samples stored at 4°C immediately after collection for up to 24 h, based on previous confirmation that the barrier properties of freshly collected sputum are maintained under these conditions [24]. Patients involved in this study received no mucolytics other than Pulmozyme (i.e., dornase alfa) and/or hypertonic saline as part of their standard treatment regimen.
Multiple particle tracking in cystic fibrosis sputum
To determine if Y733F-AAV8 would be an efficient vector for gene therapy for inflammatory lung disease therapy, we assessed its ability to penetrate the human airway mucus barrier, measuring its diffusion rates in freshly collected sputum samples spontaneously expectorated by patients with CF via MPT. The motion of WT-AAV2 and Y733F-AAV8 in sputum was tracked by fluorescent video microscopy and quantified by MPT analysis using software custom-written in MATLAB (MathWorks, Natick, MA, USA), as previously reported [25]. For visualization and tracking of individual viruses, both AAVs were labeled with the amine-reactive fluorescent dye, Alexa Fluor 647 carboxylic acid succinimidyl ester (AF647; Life Technologies, Carlsbad, CA, USA), as previously described [26]. AF647-labeled AAVs were stored at −80°C and thawed on ice before use.
In vivo studies
This study was approved by the Ethics Committee of the Health Sciences Center (CEUA-CCS 050-14), Federal University of Rio de Janeiro and the Johns Hopkins University Animal Use and Care Committee (MO19M96). All animals received humane care in compliance with the Principles of Laboratory Animal Care formulated by the National Society for Medical Research and the Guide for the Care and Use of Laboratory Animals prepared by the National Academy of Sciences, USA. This study followed the ARRIVE guidelines for reporting of animal research.
Animals were housed at a controlled temperature (23°C) in a controlled light–dark cycle (12–12 h), with free access to water and food in the Laboratory of Cellular and Molecular Physiology and Laboratory of Pulmonary Investigation at Carlos Chagas Filho Institute of Biophysics (IBCCF) of the Federal University of Rio de Janeiro (UFRJ) and Miller Research Building bioterium of Johns Hopkins Hospital.
Intratracheal instillation
Female C57BL/6 mice (n=130) weighing between 20 and 25 g were used. Animals were anesthetized with inhaled sevoflurane and placed on a surgical table. An anterior longitudinal cervical incision of approximately 1 mm was made to expose the trachea. Vector or saline was instilled with a microsprayer (intratracheal aerosolizer; model S/M-551 1C DEA, PennCentury, Philadelphia, PA, USA) attached to a high-pressure syringe (model FMJ-250, PennCentury). The cervical incision was closed with 5.0 sutures and the animal returned to the cage.
GFP confocal imaging
To compare AAV vectors with regard to in vivo distribution of transgene expression in the lungs, 10 C57BL/6 mice received 50 μL of a solution of WT-AAV2 or Y733F-AAV8 (1010 intratracheally) packaged with a gene encoding GFP (WT-AAV2-GFP or Y733F-AAV8-GFP). Two weeks after administration, the animals were euthanized, the lungs were harvested, flash-frozen in optimum cutting temperature compound, and cryosectioned using a CM1950 cryostat (Leica Biosystems, Wetzlar, Germany). Slides were immunologically stained using DAPI (Sigma-Aldrich, St Louis, MO, USA) and subsequently imaged using a confocal LSM 510 microscope under 20× and 40× magnification. Four or more randomly selected image fields were taken from 3 lung tissue sections showing regions of the airways and airspace (i.e., a total of at least 12 images per animal) to quantify the distribution of transgene expression.
To quantitatively assess the distribution of GFP transgene expression in airways/airspace, the investigators were blinded and the airway regions were manually segmented using a threshold from the DAPI or blue channel in ImageJ (National Institutes of Health, USA). Using custom software written in Java, the boundaries of the airway and non-airway regions (i.e., anywhere outside selected airway regions) were further refined using automated image thresholding. The percentage of GFP coverage was defined as the GFP-positive airway/ airspace and cell area divided by the total area of a respective compartment. Before quantitative analysis, all images were normalized by fluorescence of untreated C57BL/6 lung tissue to eliminate the contribution of autofluorescence [24].
Experimental settings
To investigate the efficiency and safety of administration of the mutant AAV8 vector over time, 120 mice were randomly divided into 3 experimental groups with 40 animals per group (Fig. 1): (1) saline control group (CTRL), which received saline solution (NaCl 0.9%) intratracheally; (2) GFP group (GFP), treated intratracheally with 1010 copies of Y733F-AAV8 viral genome (vg) containing the gene encoding GFP protein; (3) PEDF group (PEDF), treated intratracheally with 1010 vg of Y733F-AAV8 containing the gene encoding human PEDF. Animals were then euthanized for analysis at 4 different time points (10 animals per group): 7 days (CTRL7d, GFP7d, PEDF7d), 14 days (CTRL14d, GFP14d, PEDF14d), 21 days (CTRL21d, GFP21d, PEDF21d), and 28 days (CTRL28d, GFP28d, PEDF28d), after instillation.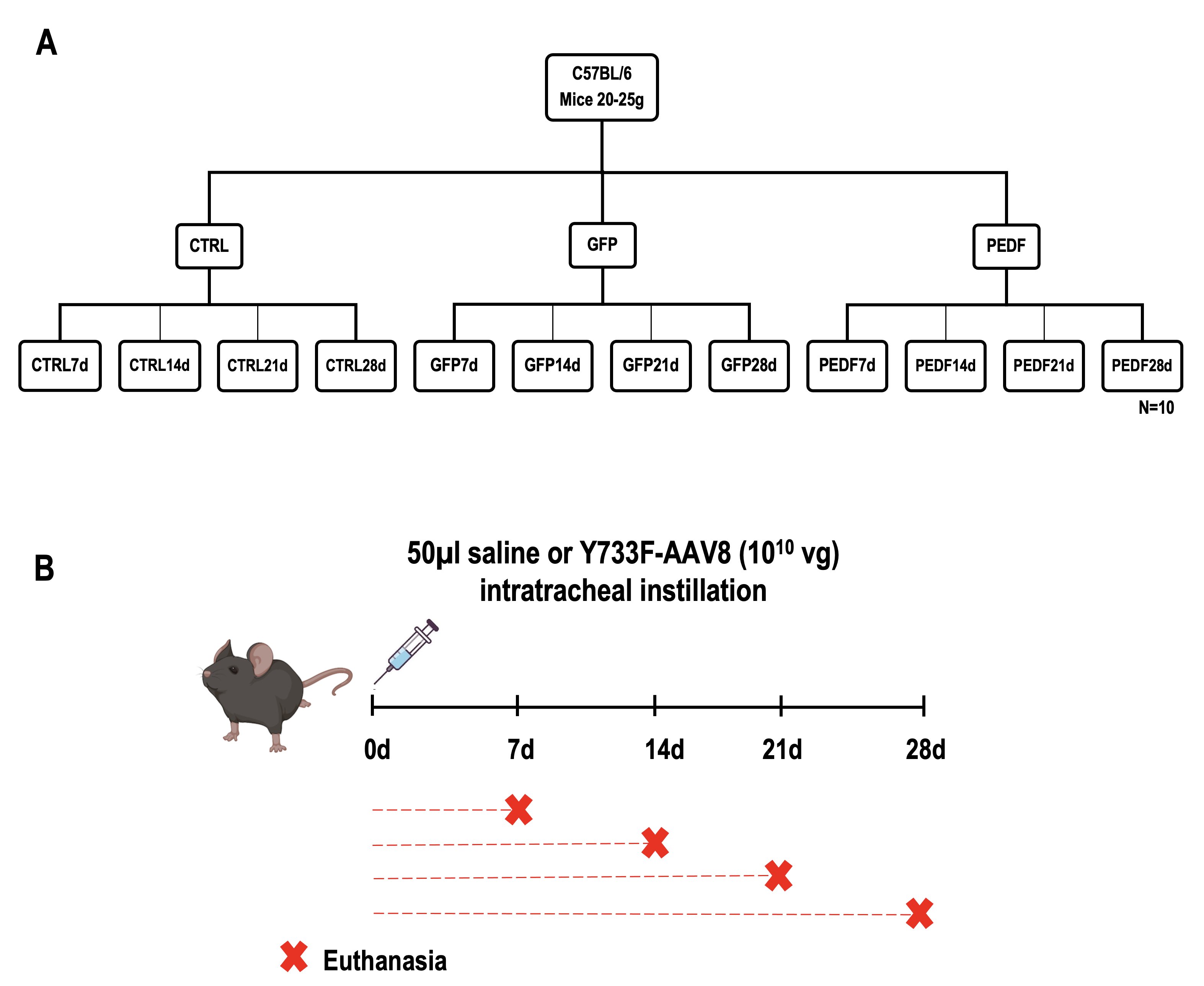 Fig. 1: Schematic representation of the experimental groups. A Mice were divided into 3 groups (n=40): control group (CTRL) and its subdivisions: CTRL7d, CTRL14d, CTRL21d, and CTRL28d (n=10); GFP group (GFP) and its subdivisions: GFP7d, GFP14d, GFP21d, and GFP28d (n=10); PEDF group (PEDF) and its subdivisions: PEDF7d, PEDF14d, PEDF21d, and PEDF28d (n=10); B Schematic representation of the experimental design. The animals received saline or Y733F-AAV8 vector virus on day zero and were harvested at 7, 14, 21 and 28 days after instillation.
Mechanical parameters
To evaluate lung function at different time points after instillation of Y733F-AAV8 vectors and overexpression of the transgenes, the pulmonary static elastance parameter (Est,L) was analyzed in vivo . Animals were sedated (diazepam 1 mg intraperitoneally), anesthetized (thiopental sodium 20 mg/kg intraperitoneally), tracheotomized, paralyzed (vecuronium bromide, 0.005 mg/kg intravenously), and ventilated with a constant flow ventilator (Samay VR15; Universidad de la República, Montevideo, Uruguay) with the following parameters: frequency, 100 breaths/min; tidal volume (VT), 0.2 ml; and fraction of inspired oxygen, 0.21. The anterior chest wall was surgically removed, and a positive end-expiratory pressure of 2 cm H2O was applied. Static lung elastance (Est, L) was determined [27–29]. Lung mechanics were measured 10 times in each animal. All data were analyzed using ANADAT data analysis software (RHTInfoData, Inc, Montreal, Quebec, Canada).
Lung histology
We analyzed lung morphometry and tissue cellularity at different time points to investigate whether the instillation of Y733F-AAV8-GFP or Y733F-AAV8-PEDF to the airways induced histologic changes in the lung. A laparotomy was done immediately after determining the lung mechanics, and heparin (1000 IU) was injected intravenously into the vena cava. The trachea was clamped at end expiration, and the animals were euthanized by exsanguination. The right lung was then removed, fixed in 3% buffered formaldehyde, and embedded in paraffin. Slices were cut (4 μm thick) and stained with hematoxylin–eosin. Lung histology analysis was performed with an integrated eyepiece using a coherent system consisting of a grid with 100 points and 50 lines (of known length) coupled to a conventional light microscope (Olympus BX51, Olympus Latin America, Brazil). The volume fraction of collapsed and normal pulmonary areas and the number of mononuclear and polymorphonuclear cells in the pulmonary tissue were determined using the point-counting technique across 10 random, non-coincident microscopic fields [30].
Real-time PCR
To establish the time course of transduction efficacy of Y733F-AAV8 vectors in the lung tissue after intratracheal instillation, a quantitative real-time reverse transcription polymerase chain reaction (PCR) was performed to measure the relative levels of mRNA of GFP (GFP; QIAGEN, Valencia, CA, USA), human and mouse PEDF (SERPIN1; QIAGEN) at different time points. Central slices of the left lung were cut, collected in cryotubes, quickly frozen by immersion in liquid nitrogen, and stored at −80°C. Total RNA was extracted from the frozen tissues using a RNeasy Plus Mini Kit (QIAGEN) according to the manufacturer's recommendations. The concentration of RNA was measured by spectrophotometry in Nanodrop ND-1000 (Thermo Scientific, Wilmington, DE, USA). First-strand cDNA was synthesized from total RNA using a QuantiTect Reverse Transcription Kit (QIAGEN). Relative mRNA levels were measured with an SYBR green detection system using Mastercycler ep realplex (Eppendorf, Hamburg, Germany). All samples were measured in triplicate. The mRNA level of each gene was calculated relative to the control gene (acidic ribosomal phosphoprotein P0; 36B4) as previously reported [15]. The 2−ΔΔCt method was used to analyze the relative changes in gene expression from real-time quantitative PCR experiments.
Quantification of cytokines
Because PEDF has immuno-modulatory properties, we used ELISA to measure the expression of pro-inflammatory interleukin 6 (IL-6) and interleukin 1β (IL-1β), interferon gamma (IFN-γ), and monocyte chemoattractant protein-1 (MCP-1) in the lung tissue homogenate at different time points after Y733F-AAV8-PEDF instillation. For this purpose, the lung tissue was homogenized in lysis buffer (1 M sucrose, 1 M HEPES, 0.5 M EDTA, 200 mM NaF, 25× protease inhibitor (Roche, Basel, Switzerland), 200 mM PMSF) using a homogenizer (Tissue Lyser LT; QIAGEN, Hilden, Germany), subsequently centrifuged, and the supernatant was reserved and stored in a freezer at −80°C. The protein content of the samples was measured using the Bradford method; 3 μl of the samples was added to 197 μl of the reagent, in triplicate. The standard curve was performed with known concentrations of bovine albumin. The reaction was read at a wavelength of 595 nm. Levels of MCP-1, IL-6, IL-1β, and IFN-Ɣ were measured with a Murine Mini ELISA Development Kit (Peprotech, Rocky Hill, NJ, USA), according to the manufacturer's protocol, and the absorbance reading was performed at a wavelength of 450 nm.
Statistical analysis
Data were analyzed with statistical tests, including Student's t test and a non-parametric Mann-Whitney test. Multiple comparisons were performed by one- and two-way analysis of variance, followed by the Bonferroni test. The parameters presented as percentages were subjected to arcsine transformation to make the distribution close to normal, thus allowing the variance tests to be performed [31]. Statistical analysis of the data was performed using GraphPad Prism 8 for Windows (V 3.0). Data were considered statistically significant when P < 0.05. The statistical tests used in each dataset are indicated in the figure legends.